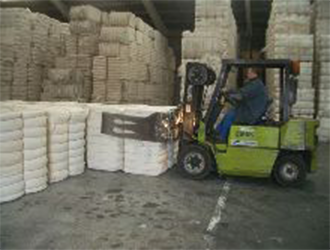 We will present you our company, our history…
When it started operating in Wattrelos in 1967, SOCOWA's main activity consisted in collecting, cleaning and trading cotton spinning mills wastes, mainly from France and Belgium.
In addition to this historical activity, SOCOWA developed in the early 1990s its international trading activity of by-products top qualities, such as cotton combers.
In 1984, SOCOWA takes over Rozendaal in La Madeleine, a company specialized in the reprocessing of cotton waste and cotton bleaching. Important industrial development works are carried out in 1986 and in 1995 ROZENDAAL purchases a bleaching unit formely owned by Peaudouce and located in Moyenmoutiers in the East of France (setting up of SOCOVOSGES). The group becomes one the world leaders of cotton bleaching (10,000 tons in 2001).
New storage facilities and offices are built in La Madeleine, where SOCOWA relocates its head-office and warehouses in 2000.
The bleaching business is sold to a european group during 2003. ROZENDAAL was closed in 2009.
SOCOWA's storage activity is relocated in the course of 2012 to Dunkerque, in the premises of a logistic partner fully dedicated to cotton bales warehousing.
Today, SOCOWA focuses mainly on its core business of cotton combers and cotton by-products trade, and is one of this sector's leading companies in Europe.