Our main activity consists of :
Cotton waste business
Strict selection of partner spinning mills, audit and follow-up of their processes ;
Import of cotton spinning mills by-products (mainly from South Asia, Turkey, Greece) ;
Storage and quality control ;
Shipments to France, Europe and reexports (american continent …).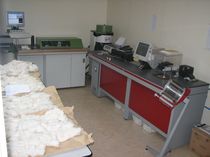 Quality control and traceability
When a container is unloaded, initial inspections are carried out on the goods and several samples drawn, in order to check the bales cleanliness and the absence of any damage. The goods and samples are coded for a full traceability from the production unit at the spinning mill to the delivery to our customers.
The drawn samples are submitted in situ to some initial tests in order to check the main technical features of the fibres (micronaire, length…) and the absence of contamination (by synthetic fibres for example). Finally, HVI test are performed on the spot, as well as by an independant laboratory (USTER HVI 1000).
This process allows us to supply our customers with goods in compliance with their technical specifications and to submit them the matching certificates.